Information Technology Services
As a small or medium sized business, it's very likely that you rely on outside professional service firms to keep your business running smoothly. You already trust an accountant for taxes and outsource your payroll. You depend on an attorney for legal advice. You probably don't maintain your own delivery fleet.
Yet when it comes to Information Technology (IT), you either try to do it yourself or only hire an IT company when you are in trouble. Your small business faces the same information technology challenges as a big businesses.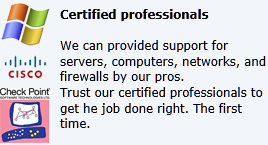 Unlike these big businesses however, you don't have an IT staff to keep your IT operations running and secure
Whether you're looking for operation support, network security, backup solutions, server installation, or website management, BITS can assist you. Get the support your company needs for your IT infrastructure, from laptop and desktop computers to server maintenance and network security. BITS is a professional services firm that pro actively manages Information Technology for small and medium sized businesses in the Lower Fairfield County area.
We take the worry out of managing your own IT and save you both time and money. We aren't interested in selling you computers, servers or any other IT equipment. We want to partner with you to help you manage your IT infrastructure. We want you to think of us as your own technology department. Our goal is to provide you with a predictable budget for your IT, reduce total cost of IT ownership, and improve the reliability and performance of your IT systems. Our dedicated IT team will provide you with exceptional and unlimited IT support that makes us one of the best and most unique in the industry.
We understand the requirements for IT systems for your business needs; these are just a sample of what we can do for your business:

Design, implement, and maintain networks
Install and maintain servers
Setup and maintain workstations, laptop, and tablets
Cloud based computing
Install and maintain business software
Remote access to the office from home
Manage, maintain, and host business websites
Setup business e-mail
Our IT services can be provided on an as-needed (on-demand) hourly basis for smaller clients or bundled into a customized IT managed service package; the service packages are tailored to each business, so you only pay for the services you need.